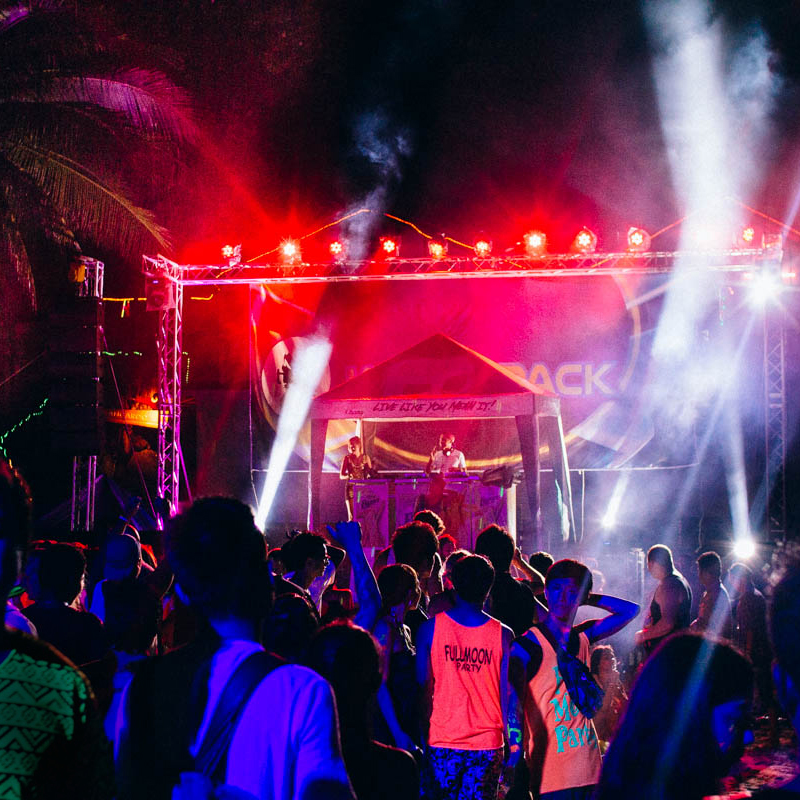 Full Moon Party 8th of September 2014 Koh Phangan, Thailand.
This month Haad Rin Beach presented a new venue: 'Wolf Pack'.
The brand new stage and dance arena thrilled Full Moon Party goers with incredible sound and performances. Vivid design, colorful lights, fire shows and excellent music – all these were like seductive beams, attracting masses of people looking for a new quantum of excitement.
It's a rare event when the Full Moon Party passes without any quests. And this month was no exception: a small rain storm and short electricity shutdowns brought an exotic flavour to the party.
All clubbers will know the scene: the party energy is rising higher and higher and all senses are filling with happiness… Abruptly the music stops, the lights turn on and everyone freezes in awkward postures. Just minutes before a noisy crowd, now everyone stands in silence and waits for the music to play again.
The same experience all we shared this night, during the electricity malfunction. But as said on Koh Phangan: Same, Same but Different. Truly it is. On Full Moon everyone knows it's a magical night – the place only for positivity and pure joy.
When the music came back, the party started again!
Don't forget to check previous Full Moon Party August 2014.