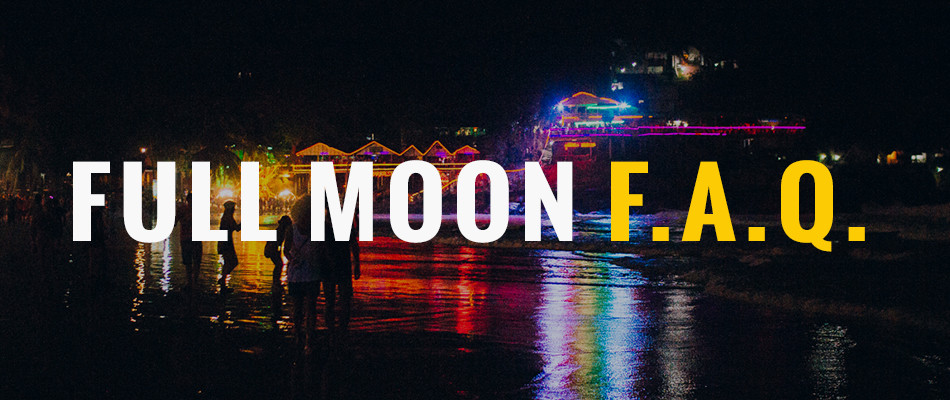 What exactly is the Full Moon Party?
As Wiki says:
The Full Moon Party is an all-night beach party that originated in Haad Rin on the island of Ko Pha Ngan, Thailand on the night of, before or after every full moon. It is mostly attended by Westerners.
But this description is too short. This is how we view the Full Moon Party. For a full understanding see Full Moon Party History, then take a look at our monthly Photo Reports. Also: discover the Map of Haad Rin beach.
Full Moon Party Schedule 2014 / 2015.
The Full Moon Party takes place every month on the night of full moon, or the night before full moon if it is a Buddhist holiday. See Full Moon Party schedule here.
How can I get to Koh Phangan?
All arrivals to Full Moon Party island are by boat, although there will be an airport on Koh Phangan in the near future. Bangkok Airways
and budget airline Fire Fly 
have daily flights to neighbouring island Koh Samui. Big Buddha pier on Koh Samui has regular ferry services to Haad Rin on Koh Phangan. You can easily buy a ticket at the pier, or for an additional fee use Ferry Samui
 online booking. An alternative way to get to Koh Phangan is by speedboat.
From Bangkok, take a sleeper train or over night bus to Surat Thani with ferry ticket included. You'll be transferred to Donsak ferry pier for the boat trip to the islands. You can also buy combined bus and ferry tickets from Phuket, Krabi or Phi Phi to Koh Phangan. From Chumphon and Koh Tao, take a regular ferry to Thong Sala, Koh Phangan's main visitor gateway.
What kind of transport can I use on Koh Phangan?
Songthaew 
taxis are frequent and convenient on Koh Phangan and will be waiting at ferry piers to pick you up, or you can flag one down on the road. The standard fare from Thong Sala pier to Haad Rin is 100 baht.
Alternatively you can rent a motorbike or car, or even hire a bicycle. Keep in mind that the roads on Koh Phangan are crazy at the best of times, and even more so during Full Moon Party week. If you are based in Haad Rin you can easily walk everywhere. Consider taking a taxi if you are staying out of town.
How can I rent a bike/scooter?
Scooters are readily available for rent at ferry piers, beach towns and probably at your guest house, too. Take your passport as deposit and agree a daily rate with the owner. Make sure you check all scratches and marks on your bike before you sign the contract – to avoid being charged for damage you haven't caused.
Be prepared that around the Full Moon Party it will be difficult to find scooters for rent near the pier. Thousands of people arrive on Koh Phangan, especially in high season December – February. Make a booking in advance if you can. Also local people are always glad to help, please don't hesitate to ask them.
Anyone can hire a bike on Koh Phangan – no need to show your driving licence or proof that you can drive. Riding on the island's crazy roads can be fun and exciting, but can also be dangerous. If you have an accident, scratches to your motorbike can be quite expensive, and your 'Koh Phangan Tattoo' can be expensive too!
What do I need to take to the Full Moon Party?
The best advice is to take as little as possible to the Full Moon Party – the less you have with you, the less you can lose. Take enough money to get through the night, split up into separate pockets or a waterproof container
 (yes, you will probably be swimming in the sea at some stage).
It's best to leave important items such as your passport and treasured iPhone locked up at your guest house or hostel. The only valuable thing you need is a little bit of brains, to keep yourself out of trouble and to find your way home.
What time does the party start?
Haad Rin Beach is a hive of activity on the day of the Full Moon Party. Take part in the soccer tournament at Tommy's Resort, or watch the action as sound systems and stages are set up on the beach. The Full Moon rises out of the sea on Haad Rin Beach around sunset, and is a spectacle worth catching if you are staying locally.
The party starts in earnest around 9pm. Haad Rin's streets and beach will be buzzing with party-goers, as everyone gets their fluorescent Full Moon Party tattoos. The party really gets heated up by 11pm and will go on until way past dawn, or until the last man standing.
The entrance fee.
Entrance fee to the Full Moon Party is 100 baht, but if you are staying in Haad Rin you probably won't have to pay. There are checkpoints set up at Haad Rin pier, Tommy's Resort and Haad Rin lake to collect funds as you arrive at the Full Moon Party.
The entrance fee pays to clean up the beach so Haad Rin is spotless again the next day. 100 baht is only a few dollars to pay, and it's worth it to know all your discarded buckets and straws will be cleaned up before they float out to sea.
Attractions and shows on the beach.
Showtime starts early at the Full Moon Party. Head to Cactus and Drop In to see some amazing fire shows by local boys on the beach. You can get involved yourself and skip over the fire rope if you are brave or drunk enough, and Drop In has an inflatable slide for Full Moon Party revellers to slide down.
Look out for the Full Moon Party sign down at Tommy's. It goes up in flames around midnight and can sometimes be accompanied by fireworks, especially at New Year. Body paint artists line the beach under their fluorescent backdrops, and are a great place to take a breather and get your fluorescent Full Moon Party tattoo.
What music is played and where?
All along Haad Rin beach, individual bars and clubs blast their music out to crazy dancing crowds, all night long. Whether your taste in music is Electro, Techno, Trance, Commercial, D & B, Underground or Deep House, you can find it at all the Full Moon Party. Check out our Full Moon Party map here.
Party crowds gather in masses at Cactus Bar, Drop In and Paradise (the original Full Moon Party) to listen to Electro and commercial, while Tommy's Resort boasts the longest running Psy-Trance stage on the beach. Sunrise bangs out D & B, and up on the rocks Dragon Bar and Mellow Mountain play melodic Deep & Tech House.
Top places for photos.
No.1 party photo spot is from the Rock @ Paradise, looking back down Full Moon Party beach. Head to Paradise and up onto the bar on the rocks for that iconic morning shot. The same is true from the other end of the beach, the view from Mellow Mountain is a sight to behold: Full Moon Party lights twinkling and crowd going wild in the distance.
Your favourite photos will always be you looking fresh with your newly decorated Full Moon Party tattoos. Make sure to take a few shots early on in the evening, before you end up face down in the sand. Not a good look, but we have to admit, another great photo opportunity.
Where to stay?
Many people stay in dorm beds in Haad Rin hostels for the Full Moon Party. They are close to the action, and you'll have an instant group of new found friends to party with. Minimum stay is usually five nights, which means you get to enjoy the beautiful beach of Haad Rin before and after the Full Moon Party.
There are also many hostels in Ban Kai and Ban Tai, the closest villages to Haad Rin. Alternatively, there are some lovely beach bungalow resorts all around the island, and cheap hotels too.
Things to do before and after full moon?
If you arrive on Koh Phangan a few days before the Full Moon Party, be sure to go to some of the amazing parties in the Ban Tai jungle. 3 days before full moon is a magical new party location, MAYA;  2 days before and 2 days after full moon is the Sramanora Waterfall Party;  and the epic Jungle Experience is one day before full moon! And of course Half Moon Festival, one week before and after full moon, is a party that must be experienced!
Check out our Jungle Experience photo reports.
Chilling out on one of Koh Phangan's idyllic beaches, or taking a boat trip around the island are popular activities after full moon. Check which day of the week it is – some of the smaller parties, like Loi Lay on Sunday, are great fun if you still want to party after full moon.
Things to avoid.
As long as you keep to basic rules you would follow anywhere in the world, the Full Moon Party can be the most amazing experience of your life.
1. Don't drive a bike under the influence of alcohol, the Koh Phangan hills are steep and many crash and burn. Accidents are common.
2. Check the seal isn't broken when you buy cheap alcohol buckets. You don't want to end up drinking methylated spirits.
3. Show respect to Thai culture, and to yourself. Don't get naked and have sex on the beach. Get a room instead.
4. Check your friends are OK, and have a pre-arranged meeting point. Don't go home with strangers.
5. Never get into a fight with a local. You are a guest in a culture you may not understand. Walk the other way, there are plenty more people to party with on the beach.
6. Don't take drugs. They are illegal in Thailand and penalties are fierce.
Prostitution on Koh Phangan.
If you meet a crazy Thai girl dressed in next to nothing at the Full Moon Party, don't expect her to be your new girlfriend for free. She's a freelancer, and will expect money/food/material gain in exchange for sex. Be a man and be willing to pay for your services, and remember the age old Thai rule: No money, no honey.
Prostitution is not as widespread on Koh Phangan as on many Thai islands, and the 'Girly Bars' are all concentrated in one convenient strip between Ban Tai and Thong Sala. Head here to pay your bar fine and find yourself a girl for the evening. But be warned there is HIV even on Koh Phangan. Don't take any risks and always use protection.
How to distinguish a ladyboy and a real girl.
If she has amazing posture, is ridiculously pretty and has a fine pair of fake breasts, chances are she's a ladyboy. It can sometimes be hard for first timers to Thailand to know the difference, especially if they are wearing 'beer goggles' at the end of a hard night partying!
If the voice sounds a bit deep, do yourself a favour: check the size of her hands and feet. If they are nearly as big as yours, she's a man. Having an Adam's Apple in her throat is another sure giveaway. Proceed with caution.
How to exchange currency?
There are many branches of bank in Thong Sala, and money exchanges and ATMs in all beach resorts.  The fee to use an ATM is 150 baht, plus charges from your bank in your home country. Taking your passport and card into the bank to withdraw funds can work out cheaper.
Use ATMs attached to banks or money exchanges: if the ATM swallows your card, it's much easier to get it back. If you need to get money sent to you in a hurry, check out the money exchanges with the Western Union sign, and ask for details.
Medicine and clinics.
If you end up needing a trip to the clinic around the Full Moon Party, you won't be alone. Many tourists have motorbike accidents and infected wounds. Pharmacies and clinics are big business, and can be found on nearly every street.
Thai medical care is of a high standard compared to other S E Asian countries. You'll need medical insurance for anything serious. And if you get burned on those fire skipping ropes, there are plenty of clinics to patch you up close to the Full Moon Party beach.