Celebrating the Full Moon Party on the beach of Koh Phangan is one of the greatest party experiences in the world. Some consider Full Moon Party culture to have spread its roots from this very tropical island. We won't argue with this. The view of the full moon is truly breathtaking and tremendous as it rises over Full Moon Party beach every month. You can find a lot of helpfull information about this legendary party in Full Moon Party F.A.Q.  Also we would like to share some Full Moon party tips that can be useful, and help you to avoid some unpleasant situations, so you can enjoy all the fun of this ultimate party for yourselves.
Ferry. Except by helicopter, there is only one way to get to the island – by sea. You can arrive by speedboat on the night of the full moon, but a better way to arrive is by ferry in the days before the party. Pros: Free entry to the Full Moon Party. Cheap price of the regular ferry. Time to explore this beautiful island unspoiled by infrastructure. Here are ferry schedules from  Bangrak Pier, Nathon Pier  and Maenam Pier   in Koh Samui to Koh Phangan. If you go by bus from Bangkok or another big city to Koh Phangan, ask about tickets that include ferry passes.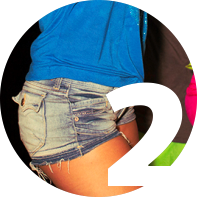 Booking. Book hostels, guest houses and hotels near Haad Rin in advance. In the days leading up to the party all accommodation will be full, becouse approximately  20- 30 thousand party-goers arriving on the island at this time. Try local websites such as Phangan Bookings for last minute accommodation and long term rentals.
Motorbike rent. Motorbikes are cheap and easy to rent on Koh Phangan. You'll find bike rental shops at the pier, but it will also be easy to hire a scooter near to your accommodation. Your passport is normally required for deposit. Mark all scratches and dents on the motorbike into a contract and take photos of all sides, so you don't pay for any extra damage. Check your bike, especially the brakes, and rent at least a 115cc power engine to cope with Koh Phangan's steep roads.
The Road. If you find accommodation outside of the Haad Rin area, avoid driving to the Full Moon Party by yourself, as the road is very curved and steep. The traffic is high and so is the accident rate! Intoxicated and inexperienced drivers on Haad Rin's busy road are a recipe for disaster on Full Moon night. Use a songthaew as a taxi instead.
Party speedboat. If you jetted in from Koh Samui to Koh Phangan by return speedboat, keep in mind that the way back will be crowded from 1 am to 3 am. Expect to wait in line about 1-2 hours at this time. Up to you to be the early birds or the last standing.
Precautions. The Full Moon Party is a very secure place. The party people are respectful, locals are very friendly, also there are a lot of undercover police on the beach. Thailand in general is a safe country for travelers, except for motorbike accidents and intoxications. That's why Haad Rin beach is not only full of bars and clubs, but medical facilities too. Take care of yourself, and enjoy the party.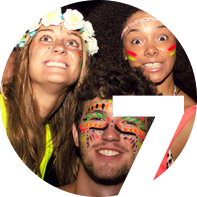 #Thaipartyfor.me. On every Full Moon our photographers take shots of party people on the beach. Find your photo in our Gallery reports.